About the think wood mobile tour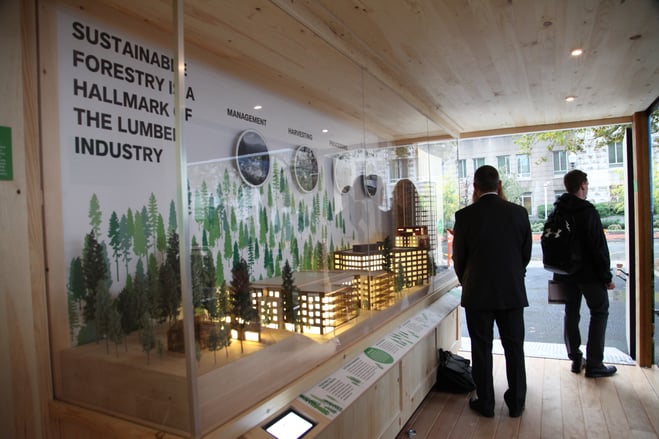 The Think Wood Mobile Tour is a beautiful and compelling museum-quality display that showcases the environmental and economic benefits of different softwood lumber and engineered wood products and their many uses in both residential and commercial construction. The traveling exhibit features a variety of interactive elements, props, and models telling the wood story from the forest to the market.

The tour is provided in partnership by the Softwood Lumber Board, U.S. Forest Service, the U.S. Endowment for Forestry and Communities, the APA – Engineered Wood Association, and endorsed by the National Building Museum.

Planned Locations Include:

National Building Museum

,

Washington, D.C., October 22, 2019

Council on Tall Building and Urban Habitats 10th World Congress

,

Chicago, October 28–30, 2019

Remodeling Show & Deck Expo

,

Louisville, November 6–8, 2019

JLC Live Residential Construction Show – Northwest

,

Portland, December 4–6, 2019
International Builder Show, Las Vegas, January 21–23, 2020
Mass Timber Conference, Portland, March 24–26, 2020

Think Wood Mobile Tour Guidelines for Event and Venue Scheduling:
20 x 45' minimum space requirement. Level space with easy access should be provided so that the Think Wood Mobile Tour unit (TWMT) can be parked within 50 feet of access to electricity. (110 V)
The TWMT will not pay for booth space rental nor electricity. Space must be complementary or furnished by a sponsor secured by the host organization or venue.
All venue requests must be made in writing by using this REQUEST FORM
All scheduled events remain tentative pending available staff and funding which may not be confirmed until two weeks prior to the event.
The Softwood Lumber Board and the TWMT will determine the tour schedule based on the type and size of venue, geographic location, proximity to other scheduled events and other considerations. Events and venues that attract architects, developers, engineers, contractors, the lumber industry and forestry events, will be given priority.